If you are looking for an inexpensive, simple electronic drum kit with mesh heads, this is your kit.
The Millennium MPS-150X electronic drum kit is the most economical from the Thomann company that carries mesh heads. Its little sister, the Millennium MPS-150 (€298) carries the same sound module, stands and cymbal pads, but unlike its big sister, the heads are made of rubber.
We will take a short tour of the virtues of this economical and functional electronic drum set.
Key Features:
Advanced Mesh Pads: The Millenium MPS-150X is equipped with mesh pads on the snare, toms, and kick drum. These pads offer realistic response and an authentic feel while playing, simulating the experience of playing an acoustic drum kit. The mesh technology also helps reduce noise during practice, making it an excellent choice for playing in confined spaces.
Versatile Sound Module: The kit includes a sound module with a wide variety of preset kits and drum sounds. It also allows musicians to customize and fine-tune the sounds to their preferences. With options ranging from classic rhythms to modern beats, the sound module provides a range of creative possibilities.
Connectivity and Additional Functions: The MPS-150X offers MIDI and USB connectivity, enabling integration with recording and music production software. It also features training functions and a metronome, making it a valuable tool for improving your drumming skills.
Assembly and Design: The design of the MPS-150X is ergonomic and easy to assemble. Adjustable racks allow for a customized setup based on your playing preferences and available space. Additionally, its modern and sleek design ensures it blends seamlessly into any environment.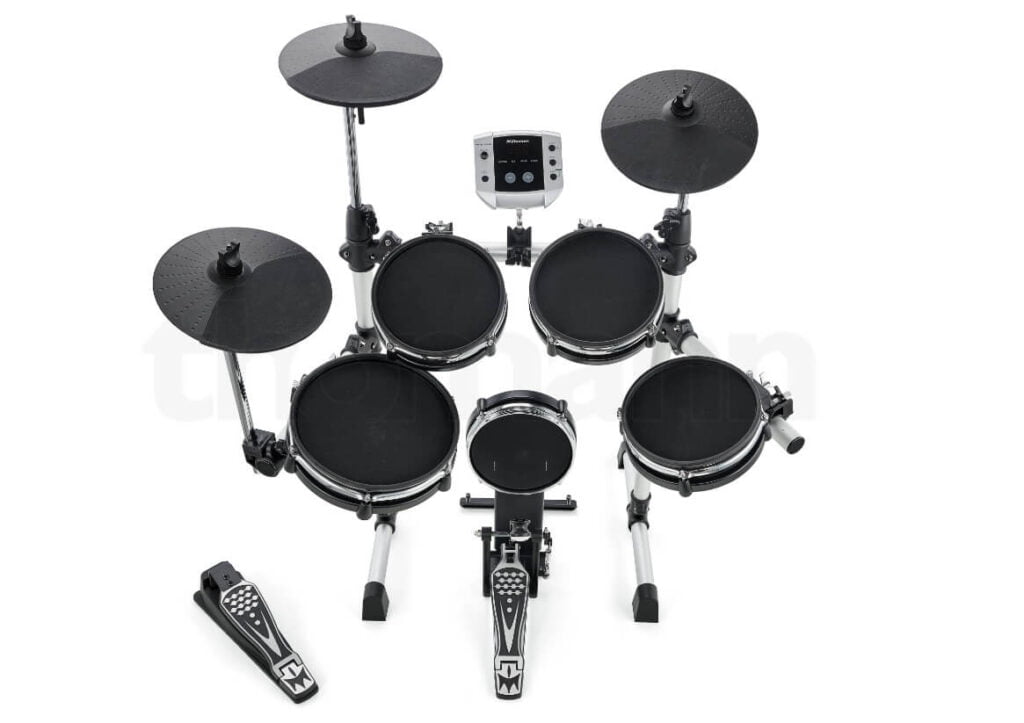 Advantages and Benefits:
Quiet and Comfortable Practice: The mesh technology not only provides an authentic response but also reduces noise compared to traditional rubber pads. This makes the MPS-150X ideal for practicing at home without worrying about disturbing neighbors.
Sound Versatility: The wide range of kits and sounds available on the sound module allows drummers to explore various musical genres and playing styles. From rock to jazz and electronic music, this kit adapts to any musical preference.
Enhanced Learning: With training features like the metronome and tracking functions, aspiring musicians can perfect their rhythm and coordination. This is especially helpful for beginners looking to progress in their musical journey.
Intuitive Interface: The sound module has a user-friendly interface that allows users to navigate and customize settings efficiently. Whether you're new to electronic drum technology or experienced, this kit will make you feel comfortable from the get-go.
In summary, the Millenium MPS-150X E-Drum Mesh Set combines the thrill of drumming with the advantages of modern technology. Its high-quality design, versatile features, and training capabilities make it an outstanding choice for drummers of all levels. If you're looking for an electronic drum kit that offers an authentic experience and facilitates your musical growth, the MPS-150X is definitely a worthwhile option to consider.
You can get it at Thomann for €389 (as of 09/01/23) at this link: Millenium MPS-150X, it is totally safe and will arrive in a period of 7 to 10 days.
If you want to investigate other electronic drum kits with more features, I recommend the following post: Millenium MPS-750x E-Drum Mesh Set electronic drum set.
How to assemble the Millenium MPS-150X electronic drum kit
Drum Lessons in Barcelona
If you are in Barcelona or in the Barcelona Metropolitan Area and you are thinking of taking drum lessons, take a look at my website by clicking on the following button: