Buying a second-hand electronic drum kit can be an excellent way to save money, allowing you to access this musical instrument at a more than affordable cost.
However, before making this investment, it is essential to take certain aspects into account to ensure that you are getting a product whose price-quality ratio meets your needs. In this article, I will provide you with some essential tips to keep in mind when purchasing a used electronic drum set wisely.
1. Compare the price of the used one with the price of the new one
To have a price reference for a used electronic battery, I personally usually estimate between 20% and 35% less than its value in the store (based on offers from second-hand sales platforms such as Wallapop or eBay in Spain). The newer and less used it is, the closer it would be to a 20% discount; The older it is and the more it has been used, the closer it would be to a 35% discount.
In the case of a battery that is completely discontinued, we would already be talking about between 40% and 60% less than its last catalog value.
2. Note the kick pedal
Don't waste your time looking at a fully electronic kick pedal drum kit.
Even if it is an electronic drum kit, it is advisable that the bass drum pedal be real. It is an extremely important element of the acoustic drums, therefore, it is preferable that you get used to its mechanics from minute zero.
An electronic bass drum pedal takes away your punch and control (I have experienced this with many students) and then you will feel the difference from the mechanics of a real pedal too much. If you use a real pedal with your electronic drums, when sitting on an acoustic kit, you will only have to adapt to the difference in bounce that usually exists between the pad (electronic) and the head (acoustic).
In the image below you can find the difference between one and the other.
Listen to me, you'll thank me.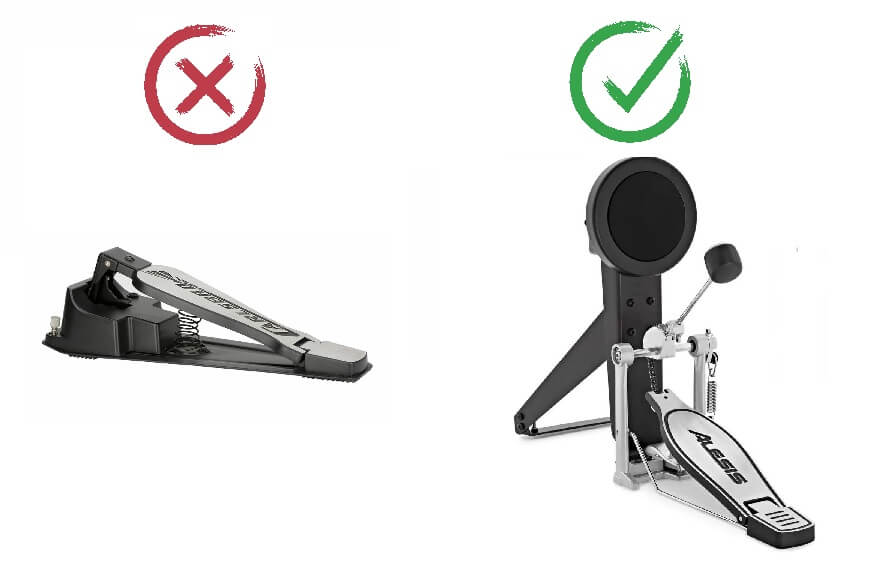 3. Do I have to keep in mind the Hi-Hat pedal?
If what you want is to save as much as possible, completely ignore the Hi-Hat pedal, most of the cheap drum kits that you can get will have an electronic pedal with only two positions, open and closed, so it won't hurt you. turn around this topic.
On the contrary, if you decide to invest more and want a more real option, you have the option of purchasing a kit that has Hi-Hat support and a trigger on the cup with different positions. To serve as an example, here is a previous post where I recommend a drum set that has exactly that: Millenium MPS-750X E-Drum Mesh Set Electronic Drum Set.
4. Mesh pads or rubber pads?
Referring to the previous point, it is according to the budget.
If what you are interested in is saving as much as possible and you don't have noise problems with neighbors, I would go for the traditional rubber pads, they make more noise, but the battery will be cheaper. The downside is that you can't change the tension.
If, on the other hand, you want to invest a little more and be able to get less volume in the shots and get a more real bounce, I would go for the mesh heads. They are adjustable with a traditional drum tuning key. To give you an idea, here is a post I previously wrote about an inexpensive electronic drum kit with mesh heads: Millenium MPS-150X E-Drum Mesh Set Electronic Drum Set.
It should be said that the difference in the volume of the hits is substantial.
The plates have no difference, there is no option for a different material, although some come with a softer rubber that produces less noise.
In the image below you can see the difference between both pads.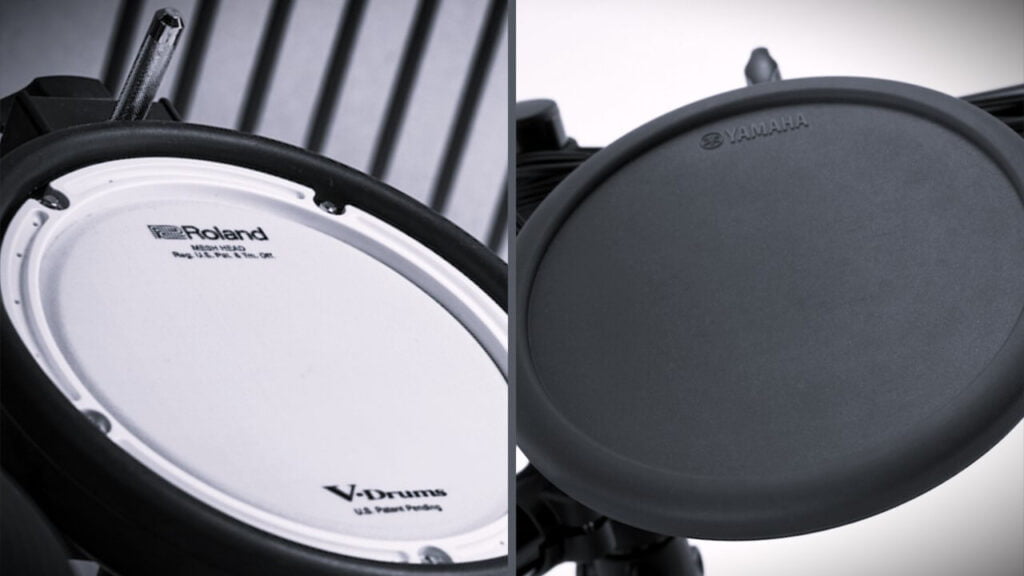 5. Brands of Electronic Drum kits to keep in mind
In principle, I would divide used electronic batteries into two groups differentiated by budget:
If you are going to spend less than €400: I would think about basic models from Alesis, Millenium (Thomann white label), Fame (Music Store white label) and the older models from Yamaha and Roland.
If your intention is to spend more than €500: I would go for high models from Alesis or medium models from Yamaha and Roland.
If it were the case that you found other drum kits from a brand not mentioned among the above, don't worry, I would think of them in the less than €400 group.
6. Am I looking for my second-hand Ectronic Drum Kit with drum throne included?
It is not relevant, although the drum throne is necessary.
Most second-hand electronic drum kits usually come with horrible saddles that were once cheap and no longer cut it. They are usually the ones with holes and the stop is a screw with a nut (a very old system that today is only used for very cheap or children's saddles), or threaded, but with a significant amount of play that will affect your balance. .
That said, and focusing on a small budget, if the saddle comes in the set, the better, since you will end up buying something used for €30 that will also have play and will move from little to a lot.
If the budget is larger, I would prefer not to think about the prices with a saddle and buy the saddle separately, looking for something solid that will serve you for a long time. Here is a post about a saddle that costs about €120 new, and that I got used at Wallapop for €80 with shipping included: Gibraltar 9608 Saddle, After many years I found this incredible saddle that is proof against anything.
7. Things to keep in mind about the seller and when going to try it
First of all (I do this with every used thing I buy), I would take the seller's reputation very much into account, and, if they have less than 10 total 5-star transactions, I wouldn't even look at the item. Keep in mind that you are going to make a significant investment of money and you want to play it safe, that means reducing the risk of using it to almost zero.
I would also take into account that the item is within the city where you live or in a nearby municipality where you can go try it.
When you get there:
Make sure all the mesh patches are in good condition, or, if they are made of rubber, that they are not broken (it is common for them to have dirt marks from hitting the clubs, so don't take this into account).
Check that it turns on well and that when you hit each patch, it emits a sound through the headphones.
Check the cables of each drum body (including the bass drum) while hitting the respective head or cymbal, if you see that the sound goes away or makes false contact noise, it means that the cable or jack (connector) is not good.
Check that the drum kit structure has no damage. You may find that it moves a little, if you verify that it is only because it lacks adjustment, no problem. If it moves because it has a broken part and cannot be easily fixed, it is of no use to you.
Check that the bass drum pedal is not missing any parts. As long as everything is there, there is no problem, you will do the adjustment later.
Check that the Hi-Hat pedal makes a sound when you press it. If not, the connector, pedal, or cable are in poor condition.
Check that the electronic drum module (brain) works well and you can change the different sounds it has (just changing one or two is enough, just check that it works).
8. Thoughts to keep in mind
To conclude, I just want to tell you that if your intention is not to spend a lot of money and buy a cheap second-hand electronic drum set, the healthiest thing would be to think of it as a tool that will give you the possibility of playing at home. You can study and play songs by plugging your mobile phone or computer through an audio cable to the battery.
Keep in mind that the sounds of this range of electronic drums are usually quite basic, although you always have the possibility of connecting it to the computer via MIDI or USB to use with other software (more complicated operations).
In the case of more expensive batteries, I have to say that depending on the model and brand, the sound usually improves considerably.
To finish
Although buying a used electronic drum set should not represent any difficulty, it is always good to know some details that you can pay attention to when searching the vast world of the Internet and used buying and selling platforms.
I hope I have been able to help you with this post, in any case, I will expand it as other things arise that I believe are relevant when buying a second-hand electronic drum kit.
Greetings!
Drum Lessons in Barcelona
If you are in Barcelona or in the Barcelona Metropolitan Area and you are thinking of taking drum lessons, take a look at my website by clicking on the following button: