If you are taking drum lessons in Barcelona and you don't have an instrument or you have an electronic drum kit and you are looking for a place to go practice for a few hours with an acoustic drum set in a rehearsal room, this post can help you.
A Common Question
The fact is that many students ask me about places where they can go to practice with acoustic drums, either because they don't have a drum kit at home where they can play or because they have an electronic drum kit and, although they study at home, they don't want to lose the relationship and feel of an acoustic drum set. It is also something that people who are starting out and do not know what options they have to practice often ask me.
Rehearsal rooms vs "Booth"
Rehearsal rooms are usually spacious and equipped mainly for a band to rehearse: guitar and bass amplifiers, drums, voice equipment, microphone stands and microphones. The measurements may vary, but they are designed so that 4 to 6 people can enter comfortably (even more.
The "booths", unlike the rehearsal rooms, are much smaller, they are usually between 5m2 and 8m2. They are intended for the recording of a single instrument (in the case of being in a studio) or for the practice of a single instrument, such as, in the case that concerns us, the drums. Usually, these booths that are designed for drums have a fully equipped drum kit and a mixer with speakers to which we can connect our mobile to use a metronome or simply play along with a song.
Places to go to practice with acoustic drums
Although there are surely many other places in Barcelona that rent rooms or booths by the hour to go and practice drums alone, these are some of the ones I know, that I usually recommend or that my students usually discover.
Without a doubt, it is the place that I recommend the most and the most frequented by my students.
It is located in the Gracia neighbourhood, on calle Sant Lluís 56, two blocks from the Joanic Metro (yellow L4) and five blocks from the Fontana Metro (green L3). I leave you the link to Google Maps: Location of El Patio.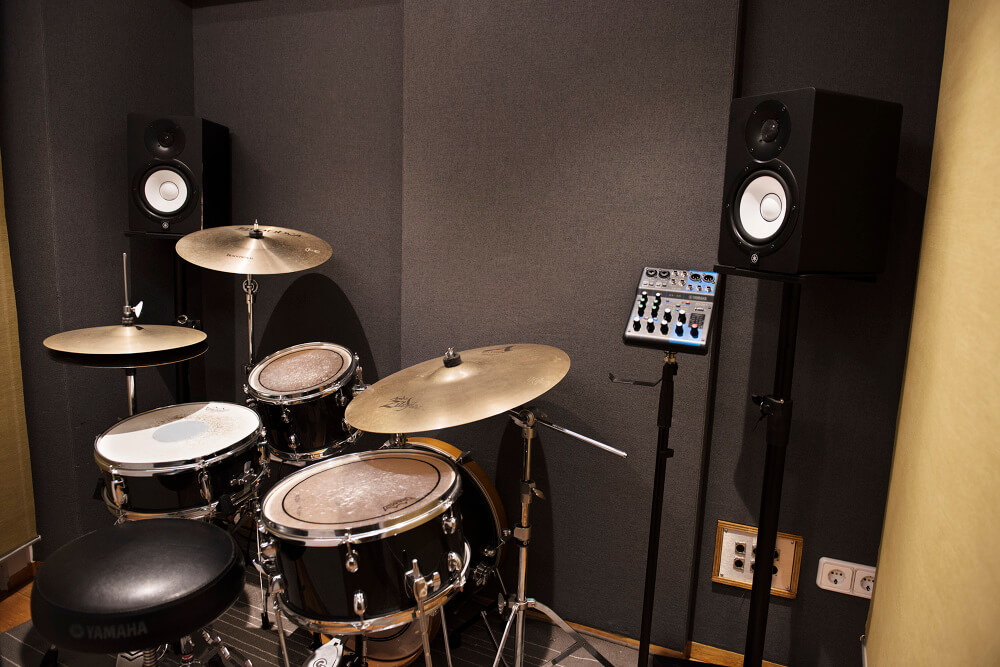 It is a studio / rehearsal rooms, they have 6 rooms and 2 booths, with air conditioning and fully equipped. All the equipment is in very good condition.
The equipment is very careful and the attention is excellent. Prices range between €6 and €7 per hour, they have different packs of hours with discounts.
The attention is super friendly, I recommend that you book in advance (especially in the evenings, since it is very crowded). The telephone number for reservations is: +34 691 754 183.
Top Music is located 4 blocks from the Verneda Metro station (L2 purple). The students who live closer to this area of Barcelona usually go to practice at these place. I leave you the location of Google Maps: Ubicación Top Music.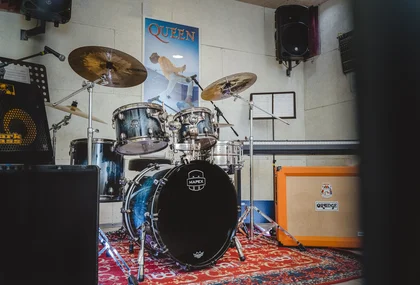 Top Music does not have a small room booth, but it does have small rehearsal rooms. It has 9 small, 1 medium and 1 large stores, all fully equipped. The rest of the building is for the monthly rental of empty rehearsal rooms.
The prices are one or two euros cheaper than in El Patio. The state of the material is acceptable, it is not so careful but it does not represent big problems. You can book by phone 934 639 745 or on the web: Location of Top Music.
It is located at Carrer Garcilaso 103, two blocks from the La Sagrera Metro station (L5 blue – L1 red) in the La Sagrera – Sant Andreu neighborhood. Very well connected if you live near any of the stops of these Metro lines. Google Maps link: Espai Jove Garcilaso location.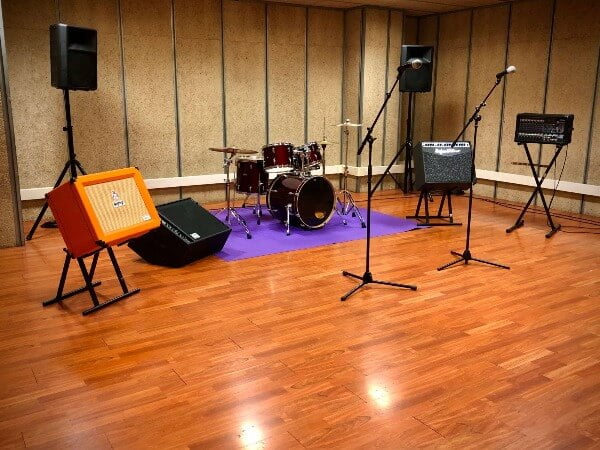 The Espai Jove Garcilaso is a quite famous cultural center in the area. They usually do a lot of cultural activities and within these, there is a lot of focus on music.
It has 5 rehearsal rooms of between 12 and 40m2, which are fully equipped for band rehearsal. The material is in an acceptable state for the volume of competition it has.
Although there is no Booth modality, there are special prices to go to study with a complete drum set. The price per hour is €5, in principle there are no hourly packs for soloists or acoustic groups.
To book or request more information, you can contact them by Whatsapp: +34 699 628 834.
---
I hope these recommendations will help you when it comes to having more options to go to study or practice drums. Any suggestion of other places that rent rooms where you can practice drums alone at a cheap price is welcome.
Cheers!
Drum Lessons in Barcelona
If you are in Barcelona or in the Barcelona Metropolitan Area and you are thinking of taking drum lessons, take a look at my website by clicking on the following button: